FALL SCHOOL AUGUST 31 - OCTOBER 4 WILL BE AVAILABLE FOR REGISTRATION AUGUST 17TH!! MORE INFORMATION TO FOLLOW THIS WEEK!!
Summer 2020
July 6th and run Monday - Friday for 8 weeks, ending on August 28th.
Skate Saskatoon 2020 Daily Summer Schedule


(Skate Saskatoon reserves the right to alter the schedule or skating groups at its discretion)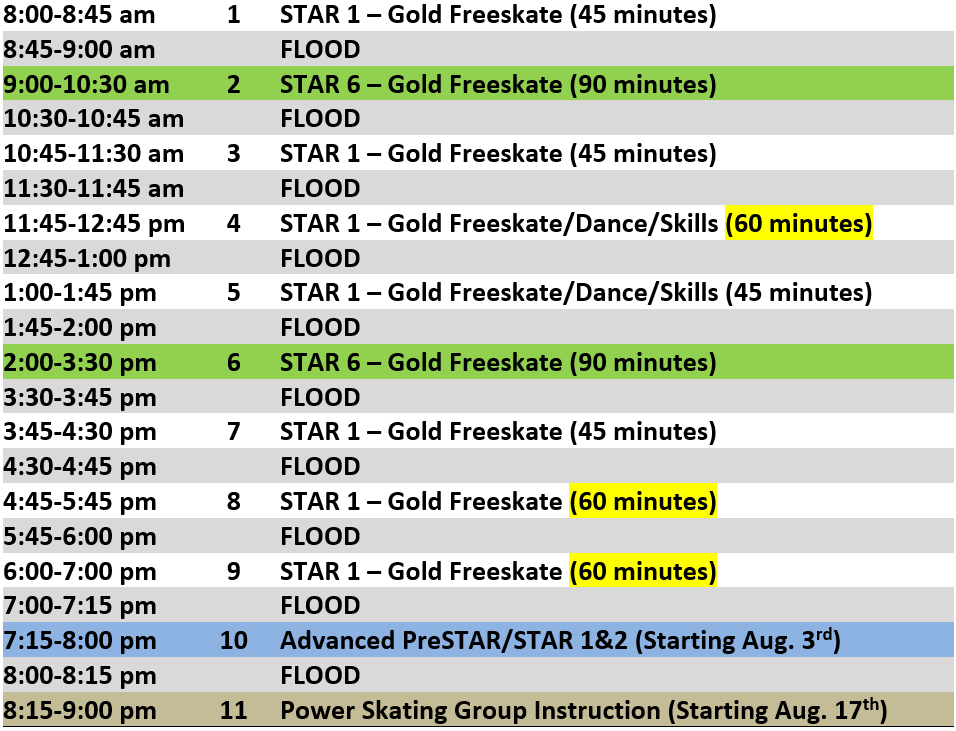 Summer brochure can be found here.
STAR 1 - Gold options have been added on for weeks 3 and 4 at 7:15 pm - 8:00 pm and 8:15 pm - 9:00 pm. They can be purchased for the week (Monday - Friday) or on a 2 week basis.
Advanced PreSTAR/STAR 1&2 Group Lessons have been added for the final 4 weeks of summer skating.
Skaters must have passed CanSkate Stage 3
(you will have received a letter to move to Advanced, or previously been registered in Advanced PreSTAR/STAR 1&2)


Figure Skates are REQUIRED
Weekly Program Includes:
Group Lessons: Monday, Tuesday, Wednesday and Thursday,
Practice Session: (no group coaching) Friday, note: private coaching from Skate Saskatoon Coaches is permitted on this session
7:15-8:00 pm
Power Skating Group Lessons have been added for the final 2 weeks of summer skating.
2 week program (8 lessons)
Targeted at: Novice (U9) and Atom (U11) Players
Group Lessons: Monday, Tuesday, Wednesday and Thursday
8:15-9:00 pm
Skate Canada Assumption of Risk and Waiver can be found
here
.

NOTE: This is
REQUIRED
to be submitted 5 days prior to skating
for all participants.
* Return to skating July 2020 *
Skate Canada Saskatchewan's "Return To Skating" notification can be found here.
Power Skating

Private Power Skating Lessons are available from our CanPower certified coaches.

Contact office@skatesaskatoon.com for details and to set up the required Skate Canada membership.
Events & Competitions
Winter Term 2 CanSkate and Advanced CanSkate Family Skates Postponed
The make-up dates for all CanSkate and Advanced PreSTAR family skates, scheduled for March 16th-22nd, will be determined once restrictions allow
March PA Credits
Any PA credits for March will be calculated as soon as possible after the rink reopens and sign in sheets can be retrieved
Elvis Stojko Skating Seminar - March 20-21, 2021
Details will follow in Early 2021.
For questions email office@skatesaskatoon.com
ACT Hall - Temporarily unavailable due to COVID-19
Skate Saskatoon has the upstairs hall available for rent, it is a great venue for office or birthday parties, receptions, banquets, dance classes etc.
Contact:
support@skatesaskatoon.com
(306) 230-1673
Hall Capacity: 187
Pricing and Info can be found here.
| | |
| --- | --- |
| | |
| | |